Powerscourt Gardens were designed from 1731 onwards, with the desire to create a garden which was part of the wider surrounding landscape. Managed by Head Gardener, Alex Slazenger and his team. Powerscourt Gardens include The Walled Gardens, The Italian Garden, The Dolphin Pond, The Japanese Gardens, Pets Cemetery and Pepperpot Tower, among other features and attractions.
Suggested Itineraries
Ideas for your next day out at Powerscourt
An Active Family Adventure
If you're looking for an eco-friendly day out that'll use up the kids' excess energy and fire their imaginations, this is the itinerary for you.
Start your adventure by donning comfortable shoes and taking the bus to Enniskerry, seeing how many sights you can spot along the way.
Then walk up to Powerscourt House and Gardens via the elegant Beech Avenue taking in the stunning sights of the Sugarloaf Mountain.
When you arrive, everyone's earned a treat, so in summer, an ice cream from the Avoca Hatch fits the bill perfectly. If it's on the chilly side, the Avoca Terrace Café has delightful scones, accompanied by tea, coffee or hot chocolate to warm you through.
Discover all the secrets of the gardens, accompanied by our free 8 stop "Family Action Quests" audio guide.
See how many different species of flowers and minibeasts you can identify along the gorgeous herbaceous borders and check out the Bee Sanctuary in the Walled Garden.
Meet the pets of Powerscourt in the Pet Cemetary.
Explore the 2km Tree Trail, see how many different types you can find and vote on which would be most fun to climb.
Finish off with a relaxing and delicious lunch in the Avoca Terrace Café, soaking up one of the finest restaurant views in the whole of Ireland.
A Fun Family Day Out
If your family contains members with little legs, try this itinerary that's full of fun, but with less walking than our Active Adventure.
When you arrive, you'll find there's plenty of parking and space to unpack strollers at Powerscourt House.
Discover all the secrets of the gardens, accompanied by our free 8 stop "Family Action Quests" audio guide.
See how many different species of flowers and minibeasts you can identify along the gorgeous herbaceous borders and check out the Bee Sanctuary in the Walled Garden.
Meet the pets of Powerscourt in the Pet Cemetary.
If you're still feeling fresh, explore the 2km Tree Trail and see how many different types you can find.
Step into Powerscourt House to stock up on supplies for your picnic lunch, before driving down to the glorious waterfall, where you can picnic and spend the afternoon enjoying the playground and completing the sensory trail.
A Day Of Historical Highlights
Start your exploration by downloading the free 22 stop "Garden Of the Gods" audio guide so you get an exciting tour filled with all the insider information on the history of Powerscourt.
Spend time at the grotto at the Japanese garden, soaking up the atmosphere in the oldest part of the garden.
Explore Powerscourt House as you browse through the many wonderful retail outlets that now call it home.
Finish the day off with a delicious lunch at the Avoca Terrace Café, set inside the historical Palladian style mansion.
A Day For Gardeners And Nature Lovers
Visit the gardens and download the free audio guide to inform you as you take the Tree Trail or the biodiversity tour.
Spend time in the stunning herbaceous border – filled with stunning plants and the longest double-sided border in the country.
Visit the Bee Sanctuary at the Walled Garden to say hello to the residents.
Chat to one of our gardeners when they stop for a break working in the herbaceous border.
Take the Poetry in Bloom poetry trail to see the connection between nature and the arts.
Visit the mythical Japanese garden and discover exciting plant specimens.
Take a well-earned break for freshly baked scones and a pot of delicious tea or coffee as you soak up the beauty of the gardens from the terrace at Avoca Terrace Café.
Drop into Powerscourt Garden Pavilion for expert advice and some inspired plant and garden buys before you leave.
A Food Lovers Day Out
Visit Avoca café to start your day with delicious freshly baked scones, tea and coffee.
Walk through the gardens, exploring the herbaceous border to enrich your senses.
Pick up some delightful local produce to take home, from the charming shops nestled within Powerscourt House.
Book your slot ahead of time to visit Powerscourt Distillery for a whiskey food pairing
Walk down the elegant Beech Avenue and tackle the Tree Trail to build up your appetite.
Dine at Sika restaurant at Powerscourt Hotel.
We have Irish and European champion trees at Powerscourt including a Wild Cherry, a Torrey Pine and a Southern Beech. There are many exceptional trees on the estate such as a line of Douglas Fir which are among the tallest in Ireland and about 150 years old. The Dawn Redwood is another notable tree on the estate which was discovered in China in 1947 and introduced to Ireland in 1949. This tree trail through Powerscourt Gardens will take you about 40 minutes to complete. The trees are numbered 1-26 on the map and marked with large red labels. Come for a walk at Powerscourt and discover our beautiful arboretum.
Powerscourt is readily accessible by road and rail, just 30 minutes from Dublin. There are a host of high quality facilities to make your visit more enjoyable
How to Get Here
Gardens to Waterfall
Facilities
Accessibility
Powerscourt Estate is located just 20 minutes south of Dublin, or 40 minutes from the airport and there are many transportation options available to reach us.
Car From Dublin City Centre / M50
GPS Coordinates: 3°11'05"N 6°11'13"W / 53.18472°N 6.18694°W
Take the N11 southbound (Wexford). At approximately 19km , take exit 7 for Bray south, Enniskerry, Powerscourt Gardens. Turn left at roundabout, over flyover and rejoin N11 heading north. Take first left for Enniskerry Village (Exit 6a). Continue along road to Enniskerry Village. Take the road to the left of the clock tower, in the village square, continue up steep hill for 600m. Powerscourt entrance is on the right-hand side opposite church entrance.
The closest public transportation to the estate is the 185 and 44 bus services which take visitors to Enniskerry village in County Wicklow. Buses run every hour. 
The 44 bus travels direct from City centre to Enniskerry village and takes approx 45 mins to an hour. 
The 185 bus connects Bray to Enniskerry. 
The village is a short walk from the Estate, approximately 20 minutes and we'd advise you to wear comfortable shoes as part of the walk is also uphill.  Be prepared to make your stroll a pleasant one!  
The nearest DART station (rail) to the Estate is Bray, County Wicklow which connects the 185 bus with Dublin City Centre. The rail line runs along the coast of Dublin, from Malahide and Howth southwards as far as Greystones, County Wicklow.
You can book to join a group on a bus from Dublin City center to visit Powerscourt Gardens. Hilltoptreks offer Award-winning Guided and Self Guided tours in Wicklow. One of their most popular tours is a day tour which includes Powerscourt Gardens and Glendalough. Booking details are below.
Book Powerscourt & Glendalough Tour here.
You can book a day tour with VIP buses, and join a group from Dublin City centre at the corner of O'Connell Street and Eden Quay from Wednesday to Saturday from 9 am, arriving back in Dublin city at 6.30pm. The first stop on the tour is Powerscourt Estate followed by other key attractions in Wicklow.
There is ample parking at Powerscourt for cars and coaches including accessible car parking.
If you travel by hire car and use an environmentally friendly electric car you can recharge onsite at our EV charging stations using the easy go app.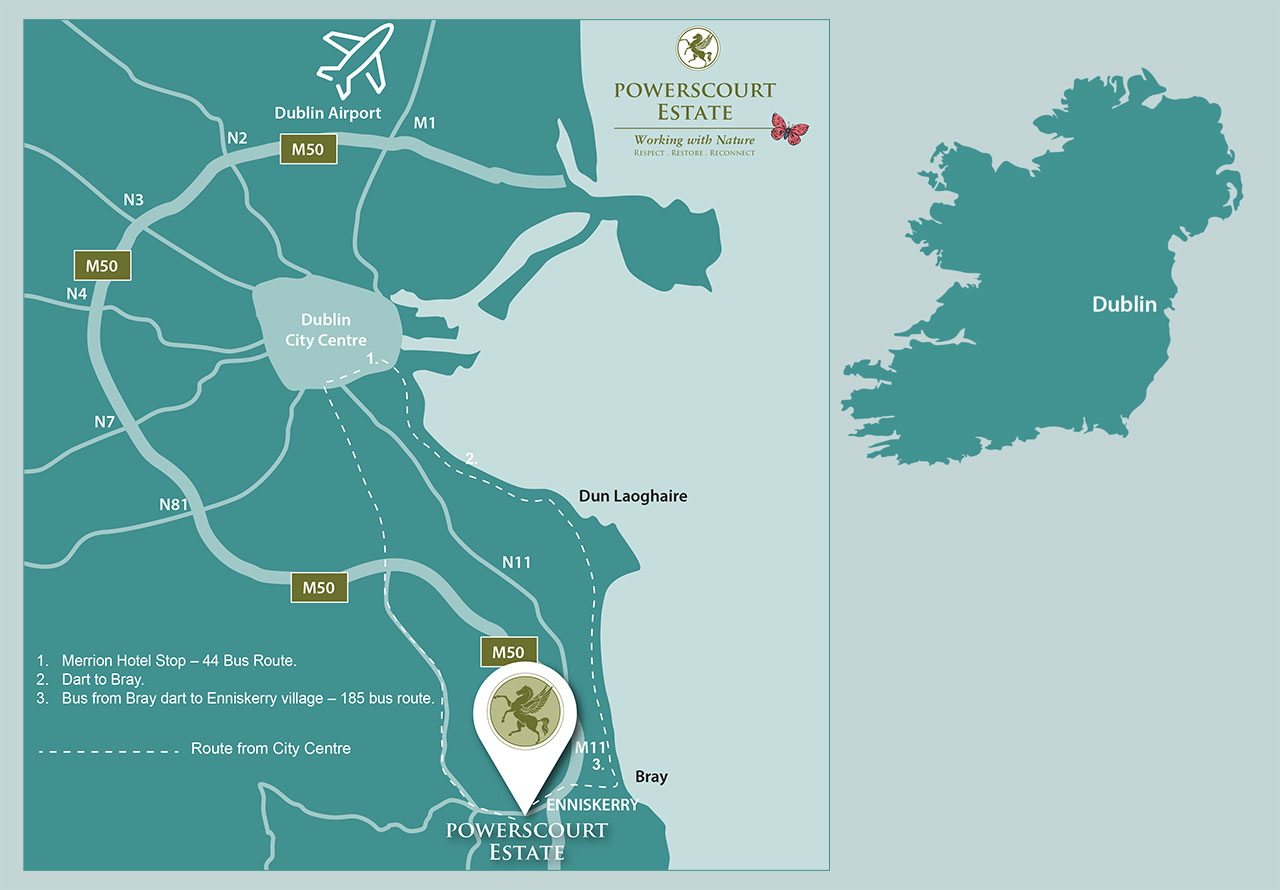 The waterfall is 6km away from Powerscourt Gardens and is a separate destination. It's recommended to drive to the waterfall!
GPS Coordinates: 53.1467° N, 6.2105° W
The Waterfall is located 6km from Powerscourt Estate. From Dublin City and Wexford take Exit 8. After 2 km take the first right towards Enniskerry and follow the signs for Powerscourt Waterfall.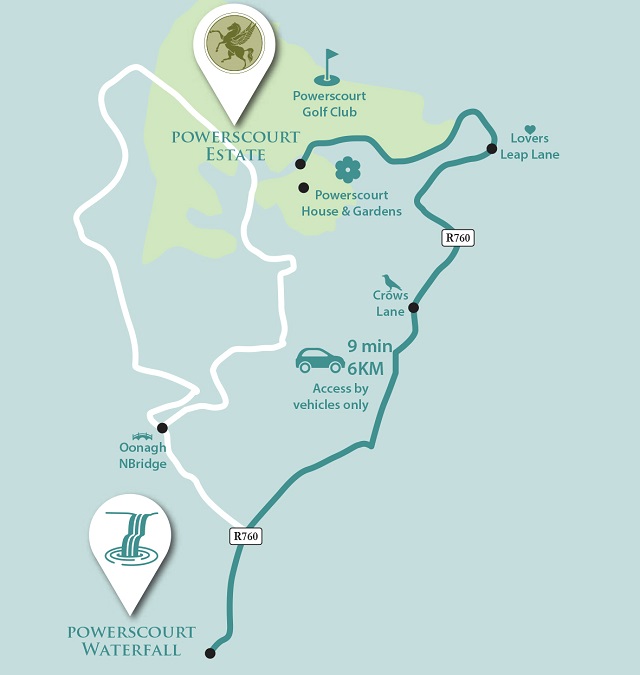 We aim to provide our visitors with the very best standard and array of facilities to help them enjoy their visit.
Facilities At Powerscourt House & Gardens
Parking: There is ample parking for visitors in our car park. Coach parking is also available for up to 20 coaches.
Refreshments: The Avoca Terrace Café in Powerscourt House provides a wide range of cuisine and can accommodate up to 160 people.
Picnics: Picnics are not permitted in Powerscourt Gardens.
Baby Changing Facilities: Baby changing facilities are available in Powerscourt House.
Information Guides: We provide information guides in English, French, German, Italian, Spanish, Polish and Chinese to visitors to Powerscourt Gardens.
Dogs: Unfortunately dogs are not permitted at Powerscourt Gardens or House, with the exception of Guide Dogs.
Carer & Assistants: Carers travelling with people with disabilities are entitled to free entrance to the Gardens. The site is partially wheelchair accessible.

Commercial photography is not permitted anywhere on the estate.
Facilities At Powerscourt Waterfall
Refreshments: Visitors are welcome to picnic or BBQ at the waterfall. A refreshment kiosk is available during summer months offering coffee, tea, sandwiches and snacks.
Carer & Assistants: Carers travelling with people with disabilities are entitled to free entrance to the Waterfall.
Parking & Toilets: There is parking and toilet facilities available at the waterfall.
Baby Changing Facilities: Baby changing facilities are available at Powerscourt Waterfall.
Dogs: Dogs are welcome to visit the waterfall. Please keep them on a leash!
Photography: Visitors are welcome to take photos during their visit to Powerscourt Estate, however commercial photography is not permitted in the Gardens. Please note that drone photography is not permitted at Powerscourt Estate, unless by prior arrangement with the Powerscourt Estate Office.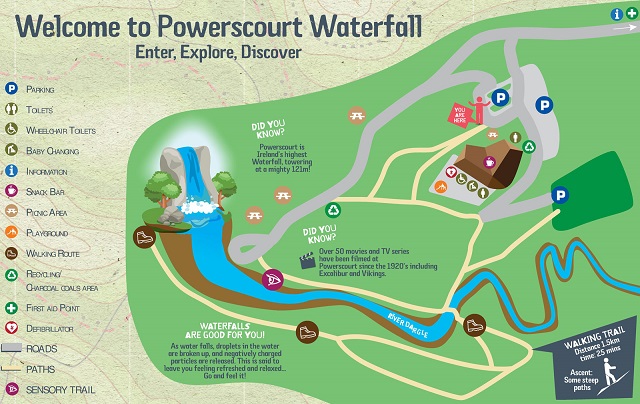 Powerscourt Estate prides itself on the welcome we offer to all our visitors and being an accessible destination for everyone.
There is good access to the gardens, shops and terrace café and wheelchairs are available to borrow while you enjoy your visit with us. We recommend that these are booked in advance through our reception team to avoid any disappointment. Unfortunately, access to our first floor shops is not possible in a wheelchair as there are several steps.
Wheelchair users and families with buggies will find our attractions easy to access, and our facilities suitably equipped. Those with limited mobility will appreciate the number of benches and picnic tables located in both Powerscourt Gardens and Waterfall.
For any queries regarding accessibility, please get in contact with us. We look forward to welcoming you to Powerscourt.
Accessibility at Powerscourt House & Gardens
Parking: Disabled Parking is available in our carpark.
Drop-off Point: Disabled visitors are welcome to stop at the drop off point at the front of Powerscourt House.
Carer & Assistants: Carers travelling with people with disabilities are entitled to free entrance to the Gardens.
Disabled Route: There is a disabled route through Powerscourt Gardens. Our reception team will be delighted to help you with any queries.
Café: There is disabled access to the Terrace Café and Terrace area.
Toilets: There are disabled toilets available in Powerscourt House.
Lift: There is a lift to the ballroom on first floor of Powerscourt House.
Wheelchairs: There are wheelchairs at our house reception which visitors to the gardens are welcome to use. Please book in advance by phoning +353 (0)1 204 6000 to avoid any disappointment. A €20 refundable deposit is required.
Dogs: Dogs are not permitted in Powerscourt House, but we welcome Guide Dogs with open arms.
Accessibility at Powerscourt Waterfall
Parking: There is ample parking at the waterfall, close to the refreshment area and toilet facilities.
Toilets: There are disabled toilets available at the waterfall.
Access: The areas surrounding the waterfall are largely accessible for wheelchairs. Please call us on +353 (0)1 204 6000.
If you have specific queries or ask our staff at the waterfall when you arrive.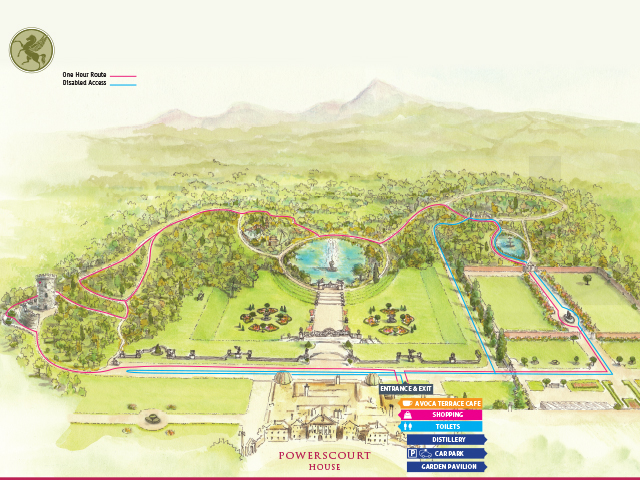 Experience one of Ireland's top tourist attractions and a destination like no other. Beyond the entrance gates to the Estate you enter a world full of beauty with 47 acres of gardens to explore, a magnificent House to dine and shop in. An award winning Distillery and golf club and if you want to stay longer you can even stay at Powerscourt Hotel.
Powerscourt Golf Club
Both our East and West Courses are open to visitors 7 days a week and we look forward to welcoming you here.
Powerscourt Distillery
Discover the traditional whiskey making process and sample award-winning Fercullen Irish whiskeys at Powerscourt Distillery.
Powerscourt Hotel
Turn a magical day at the Powerscourt Estate into a memorable mini break, with a luxurious stay at the 5* Powerscourt Hotel, part of the MHL Hotel Collection.
Give Powerscourt as a gift
Give the gift of the wonder of Nature. Powerscourt Gift Cards can be used in the Gardens, Garden Pavilion or Golf Club.
This place is amazing. Soo beautiful. We've been many times and each time we love it. We chose to come in May but maybe next time we'll head over in June hopefully to see all the flowers blooming. The walks are soo relaxing and the view is just amazing. This time we stayed for lunch and cannot praise enough their food. Such fresh and tasty soup and sandwiches and yummy desserts. Cannot wait for our next visit as even if it's far away from where we live and takes almost 3 hours to drive, it's just soo beautiful ?
We visited Powerscourt gardens for the first time in late October. The walled gardens still had a colourful display of flowers and shrubs, the trees were in wonderful autumn shades and the Japanese gardens were delightful with the Acers looking very attractive. Powerscourt is certainly worth travelling to see if you are in the area.
I've been here many years ago and the grounds are just as beautiful as I remembered. The new addition of shops, Avoca cafe, nursery and distillery just adds even more things to do. This is a great place to stop and spend sometime.
This garden was incredible. We went on a very rainy day and it was difficult to really enjoy the beauty that was there. We quickly walked thru the formal gardens, Japanese garden and tower house. The collection of trees were magnificent but it was raining too hard to read all the labels Would definitely go back if we get a chance.
The walled gardens are the most amazing flowers I have ever seen. I could have looked at them for hours. The rest of the grounds are very beautiful and peaceful when there aren't large tour groups. The lunch at Avoca is very good, fresh and reasonably priced. You can even have some retail therapy at the stores. Again, the most amazing flowers!!!