Pack up a perfect picnic or say bon appetit to a barbeque at the foot of the stunning waterfall. Alternatively, our cute kiosk "The Bug Buffet" offers hot drinks, hot snacks, ice-cream and confectionary. Younger kids will love the playground, whilst older ones adventure through the trees.
Ireland's highest Waterfall
plenty to discover at every turn
Get inspired for your next outing. Take a look at just a few of the stunning shots, taken at and around the waterfall.
Powerscourt is readily accessible by road and rail, just 30 minutes from Dublin. There are a host of high quality facilities to make your visit more enjoyable
How to Get to Powerscourt Waterfall
Gardens to Waterfall
Facilities
Accessibility
Powerscourt Waterfall is located 6 km and 9 minutes drive from Powerscourt Gardens.  The Waterfall can be reached by car or a pre booked taxi.
Car From Dublin City Centre / M50
GPS Coordinates: 53.1467° N, 6.2105° W
The Waterfall is located 6km from Powerscourt Estate. From Dublin City and Wexford take Exit 8. After 2 km take the first right towards Enniskerry and follow the signs for Powerscourt Waterfall.
There is ample parking at Powerscourt Waterfall including accessible car parking.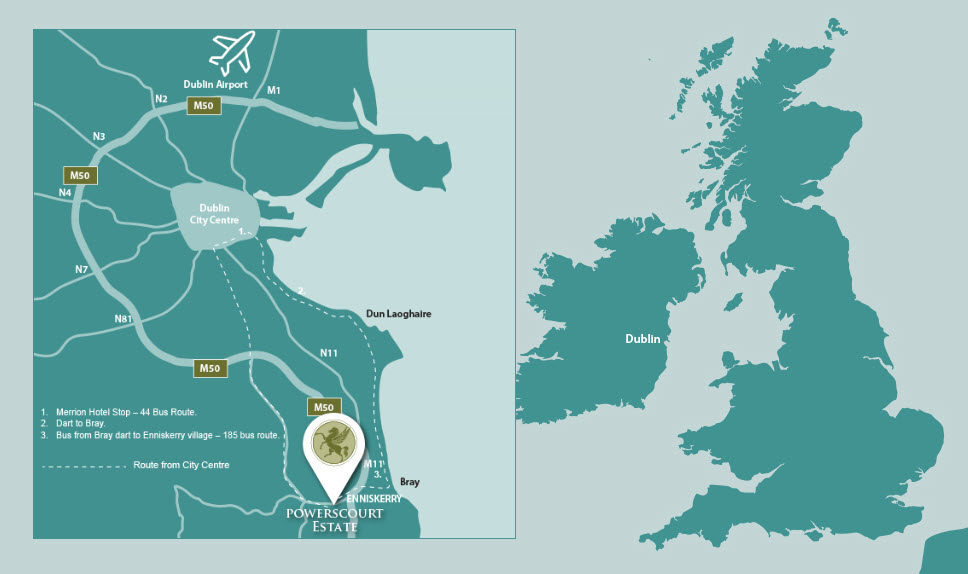 The waterfall is 6km away from Powerscourt Gardens and is a separate destination. It's recommended to drive to the waterfall!
GPS Coordinates: 53.1467° N, 6.2105° W
The Waterfall is located 6km from Powerscourt Estate. From Dublin City and Wexford take Exit 8. After 2 km take the first right towards Enniskerry and follow the signs for Powerscourt Waterfall.
Powerscourt Waterfall is 6km from Powerscourt Gardens and there's no public transport between the gardens and the waterfall, however there are number of local taxi companies that will be happy to transport you from the Estate to the Waterfall.
Enniskerry Taxis – www.enniskerrytaxis.ie
+353 (0) 1 437 2091
MT Cabs – www.mtcabs.ie
+353 (0) 1 286 3633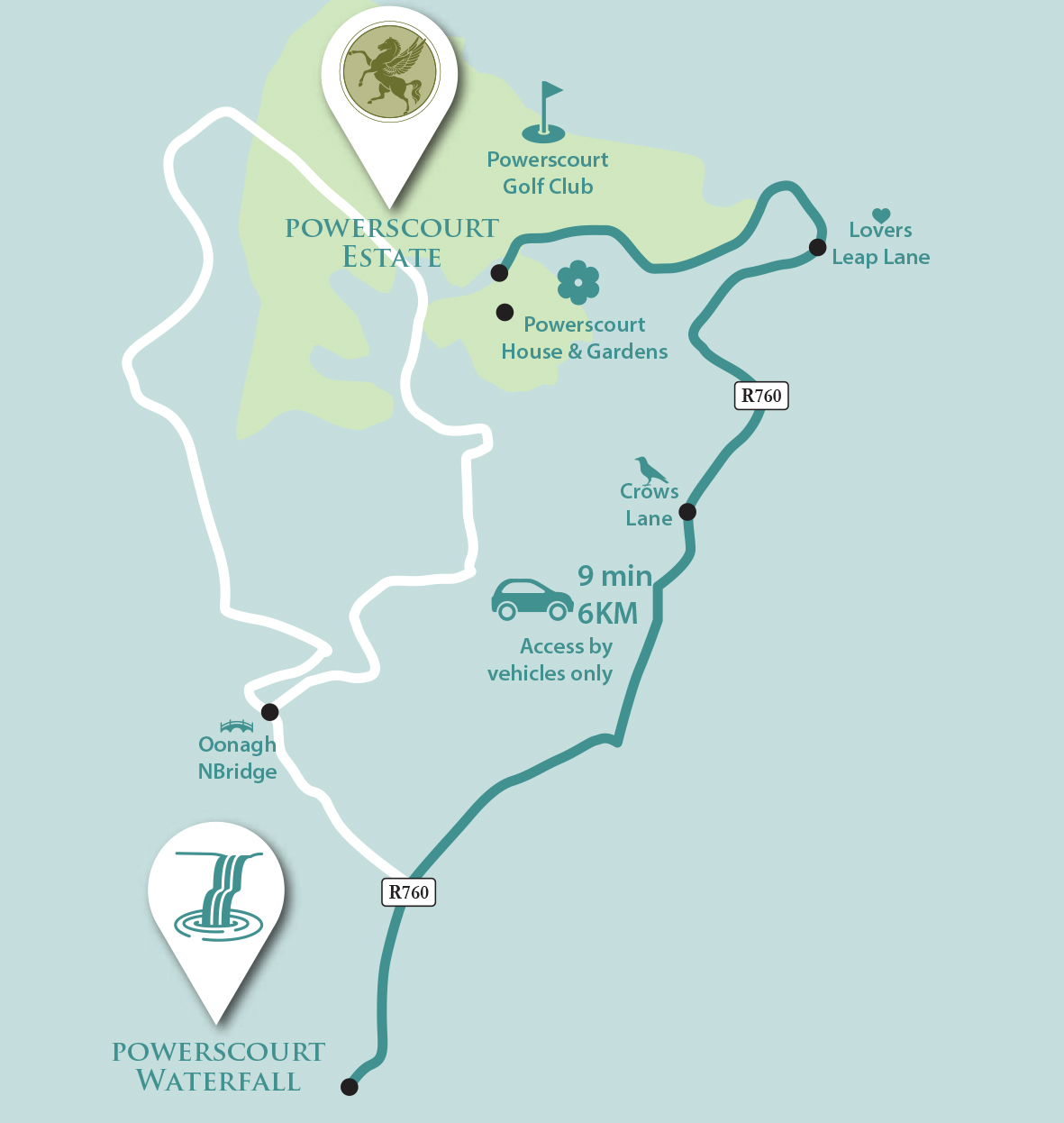 We aim to provide our visitors with the very best standard and array of facilities to help them enjoy their visit.
Facilities At Powerscourt Waterfall
Refreshments: Visitors are welcome to picnic or BBQ at the waterfall. A refreshment kiosk is available during summer months offering coffee, tea, sandwiches and snacks.
Carer & Assistants: Carers travelling with people with disabilities are entitled to free entrance to the Waterfall.
Parking & Toilets: There is parking and toilet facilities available at the waterfall.
Baby Changing Facilities: Baby changing facilities are available at Powerscourt Waterfall.
Dogs: Dogs are welcome to visit the waterfall. Please keep them on a leash!
Photography: Visitors are welcome to take photos during their visit to Powerscourt Estate, however commercial photography is not permitted in the Gardens. Please note that drone photography is not permitted at Powerscourt Estate, unless by prior arrangement with the Powerscourt Estate Office.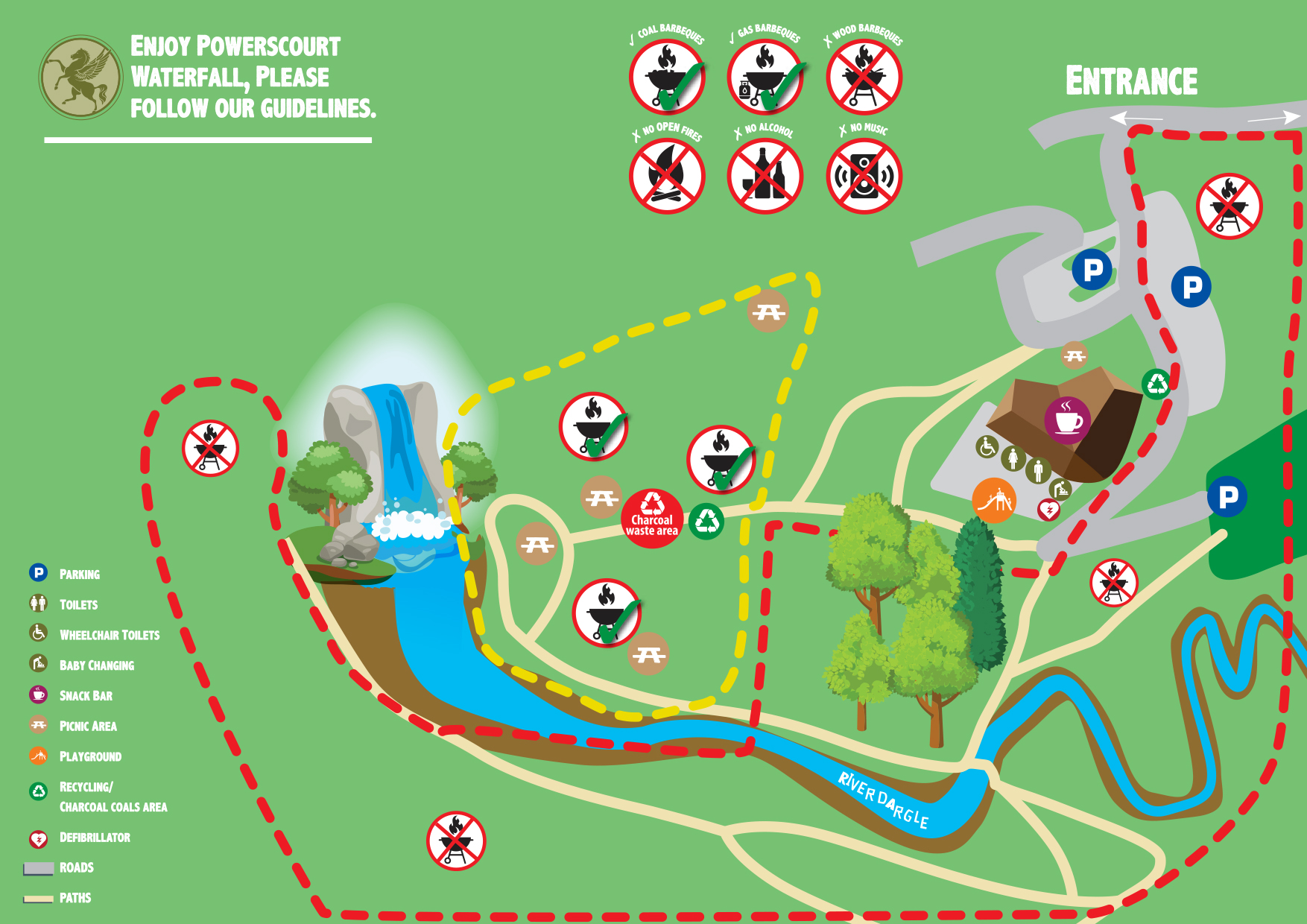 Powerscourt Waterfall prides itself on the welcome we offer to all our visitors and being an accessible destination for everyone.
For any queries regarding accessibility, please get in contact with us. We look forward to welcoming you to Powerscourt.
Accessibility at Powerscourt Waterfall
Parking: There is ample parking at the waterfall, close to the refreshment area and toilet facilities.
Toilets: There are disabled toilets available at the waterfall.
Access: The areas surrounding the waterfall are largely accessible for wheelchairs. Please call us on +353 (0)1 204 6000.
If you have specific queries or ask our staff at the waterfall when you arrive.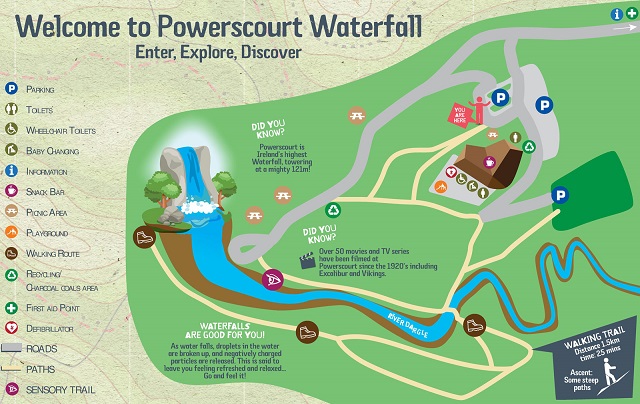 WE ARE GREEN
Movies and TV series have been shot at the waterfall since the 1920's, with one of the more recent ones being the hit show "Vikings" in 2015. The unspoiled, ageless setting of the waterfall has made it a firm favourite of directors making historical dramas.
Benefits of the Waterfall
Explore
About Powerscourt Waterfall
Powerscourt is Ireland's highest waterfall
It offers a chance to experience the natural phenomenon of a waterfall
The sound and motion that water produces is relaxing
Ions which are associated with waterfalls and energise us and help us feel relaxed
It has unusual tree species and some of the highest trees in Ireland
The Interesting history
Lord Powerscourt Deer Park and introduction of Sika Deer to Ireland
Benefits Of Powerscourt Waterfall
Picturesque place to spend time
It's aesthetic qualities – natural beauty, scenic spot, place to relax
Time with family and friends
Offers clean air, purifying place
Provides wildlife sightings
Place to enjoy a meal
Children's playground
Place that you can freely walk your dog
Ease of access – near Dublin and motorway
Negative Ions – Vitamin In The Air
Negative Ions are Positive. Air near waterfalls, mountains, beaches and forests are among those places where ionization levels are the highest and in complete and natural balance.
For example you may have experienced the power of negative ions when you last set foot on the beach or walked beneath a waterfall or immediately after spring thunderstorms.
What Are Negative Ions?
Ions are molecules that have gained or lost an electrical charge. Negative ions are created in nature as air molecules break apart due to sunlight, radiation, and moving air and water. They are odorless, tasteless, and invisible and we inhale them in abundance in certain environments
Our modern homes and offices seal out negative ions forcing us to live in unhealthy environments. Computer terminals, fluorescent lighting, forced air ventilation systems, and modern building materials generate an over abundance of positive ions. Positive ions make us feel tired, depressed and irritable. Balancing the ionization in your home and workplace may help you live a healthier life.
Sustainability & Biodiversity
The long-term overarching mission at Powerscourt Estate is to be recognised on a global stage for our sustainability initiatives, and to be Net Zero by 2025.
Nature at its best! A beautiful part of Ireland and a very nice walking route is set out. The waterfall is very impressive and the site is well run.
The second you walk out of the car park you can see the waterfall. It was great to walk out to the falls and see the water cascading down. Once we got out to the waterfall, the sight was even more incredible.
Beautiful place to come with a family. You can have a picnic or bbq by the waterfall. Good weather definitely makes in so much nicer. We were lucky to get a lovely weather.